It was a long gestation, but the Street 500 has finally lobbed in Australia as a LAMS entry point into the Harley-Davidson family
All-new motorcycle platforms – they don't come around too often, especially from Harley-Davidson. That's why the Street 500 and 750 from the Motor Company are a big deal, and even more so with the paradigm shift away from the traditional reliance on the baby boomer dollar to get them through.
This time, novices and women are a particular focus for the American juggernaut – as well as those just in the business of commuting — and in Australia that equates to the 494cc Street 500, which is now on sale priced at $9995 rideaway. The Street 750 won't be coming Down Under. There's no doubt that Harley-Davidson would love a Street 660 in its midst – the upper [...]
For the first time Harley-Davidson has squeezed its 110-cube Twin Cam, normally reserved for CVO models, into a Fat Boy Lo frame to create its most powerful and desirable cruiser yet.
HD Australia sales manager David Turney and "Pontiac tragic" nails it when he says it reminds him of the Pontiac GTO.
"Pontiac squeezed in the biggest motor that would fit in the chassis. It's the same with the Fat Boy S," he says.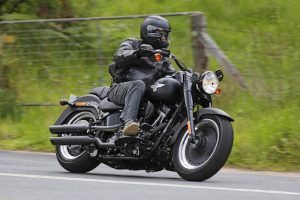 Fat Boy was the biggest seller in the Harley family in Australia for several years until it was surpassed by the Dark Custom range, then the Breakout and now the Street.
However, a resurgence in Fat Boy is now predicted with the addition of this high-powered, low-riding model. Price is extremely attractive at $31,495 which is just $2500 more than [...]